Illumine Trio
Trumpet, Soprano and Harp
Illumine Trio is led by trumpeter Chris O'Hara from Alliance Brass and Synergy Brass, plus soprano and harp – an unusual combination, but a lovely one! 
Chris has toured for Allied several times most recently with Alliance Brass, and some season's ago, with Synergy Brass.  He knows how to please a community concert-style audience. 
Chris also knows how to assemble a high-quality ensemble and has done so with Illumine.  Intended to brighten, enlighten and light up, Illumine's goal is to perform beautiful music beautifully.  Whether that is through Renaissance or Classical or Pops Standards, Illumine will leave its audiences feeling as if they have been uplifted by virtuosity, grace, style and beauty. 
"Elegantly performed" – Int'l Trumpet Guild
The combination of soprano, harp and trumpet "lends itself to a transparent texture and calming aura throughout."  – ITG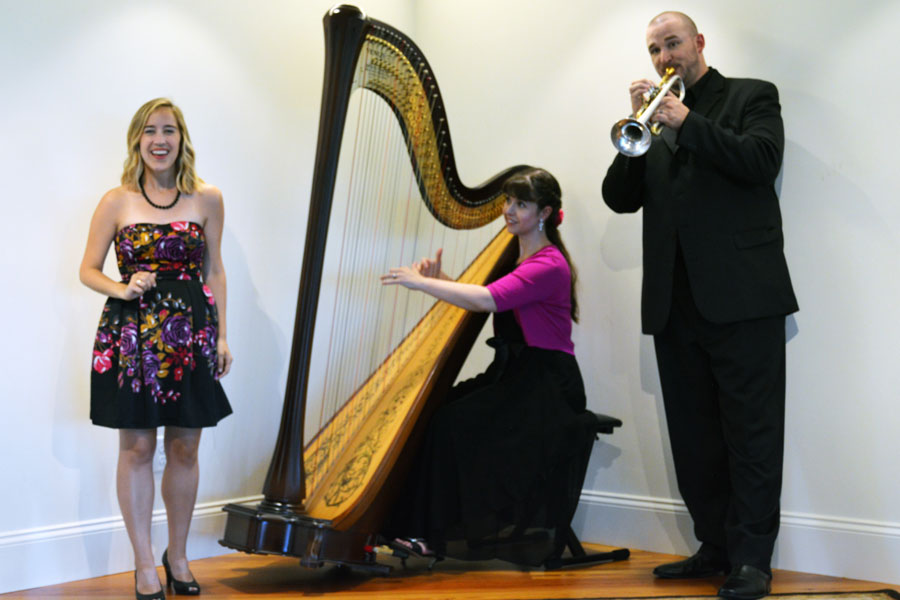 Program Highlights
Penny Lane – The Beatles

Hark! Hark! – Robert Johnson

Fields of Gold – Sting

Jesu, Joy of Man's Desiring  – Bach

Alleluia – Mozart

My Lady Carey's Dompe – Anonymous

Defying Gravity from Wicked – Stephen Lawrence Schwartz

Wachet Auf, BWV 140 – Bach

Bittersweet Symphony – The Verve

Over The Rainbow/What A Wonderful World – Weiss/Thiele
Tech Overview
Sound: House Sound w/ local tech to run sound
Piano: Not required
Lights: Best available w/ local tech to run lights
Hospitality: Healthy sandwiches & water