Cherish The Ladies
Flute/penny whistle, guitar, violin, keyboard & accordion
NY-based all-female ensemble led by All Ireland flute & whistle champion Joanie Madden.
Formed in 1985, CTL has played around the world, including the White House, the Olympics and all of the biggest venues.  In addition to 17 grand CDs, one, "An Irish Homecoming" was videotaped and aired over PBS, winning an Emmy.
In June, 2021, Joanie Madden was honored with the NEA's  National  Heritage Fellowship, which is the nation's highest honor for traditional & folk artists.
CTL's shows always offer a spectacular blend of virtuoso instrumental talents, beautiful vocals, captivating arrangements, and stunning step dancing. And Joanie leads the show will great humor and personality.
"It is simply impossible to imagine an audience that wouldn't enjoy what they do." – The Boston Globe
CTL's music is "passionate, tender & rambunctious." – New York Times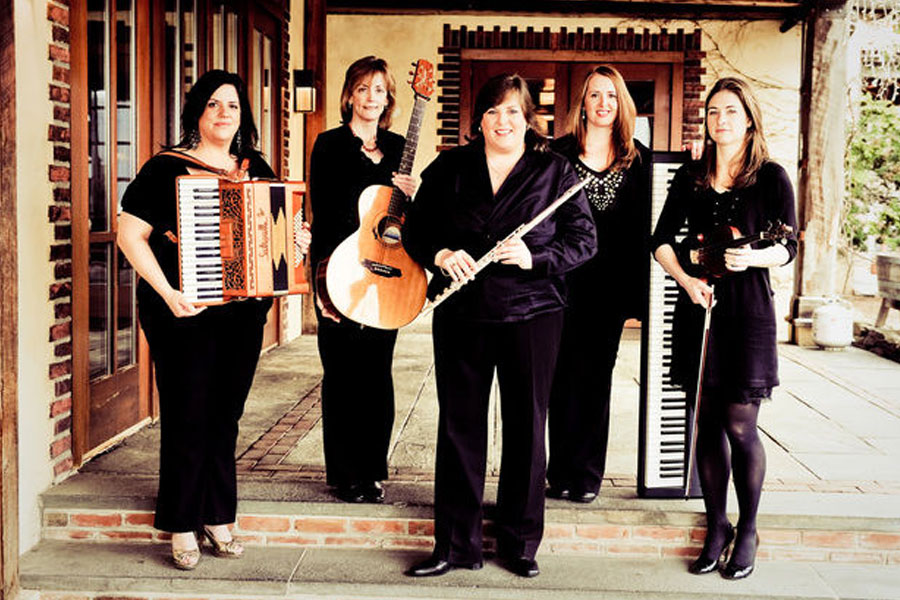 Program Highlights
Tonight's program may be chosen from amongst the following tunes…..
Redican's/Sean Ryan's/Take The Bull By The Horns
The Dance: Galway Hornpipe/Dessie O'Connor's/The Moher Reel
Coal Quay Market/Happy Days/Rabbit In The Field
Maire Mhor
If Ever You Were Mine
My Own Native Land
Pepin Arsenault/The Shepherd's Daughter/A Punch In The Dark
Carrigdhoun
Redican's Mother/Humours of Westport/The Morning Dew
Rolling In The Barrell/Pinch Of Snuff/Vincent Campbell's
Thady Casey's Fancy/The Ladies Pantalettes/The Monaghan Twig/The Linen Cap
The Ballad Of The Foxhunter
Liza's Dream/The Westside Highway
The Battle Of Aughrim/The Star Above The Garter
Tip Toe Home/Paddy Kelly's
The Bonny Light Horsemen
Miss Maule's/Alta's Reel/The Five Of Diamonds/The Pilltown Reel
Tech Overview
Sound: House sound if available; the band will carry sound gear and a sound technician
Piano: Grand piano tuned the day of the performance
Lights: Best available w/ local tech to run lights
Hospitality: Hot, healthy meal for 8 available 2 hours before the performance